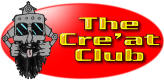 Stereograms
---
Get cross-eyed with these Stereograms.
Stereograms are pictures with a hidden 3D shape inside them that can be seen if you manage to focus your eyes below (or sometimes above) the actual image.
The images can be seen by allowing the eyes to diverge, as if you're focused on an object that is more distant than the screen. It may take you some time but just stare at the screen, letting your eyes defocus until you get it. Good luck!
Click on an image to see a larger version of it.